well, what can I say? The wait is finally over. Even since I heard about the Japanese version of the ITR I've been anxiously awaiting the time that I'd be able to get my hands on one. Unfortunately I didn't have the "mucho denero" to get one... So I had to settle for my Civic Si Coupe (Which I still miss :-( ).. But good ol' Betsy was pretty fun to drive but nothin near what the ITR is like.
Appearance
The Integra Type R has not changed significantly since its intro back in 97. But the 98 and up models have slight mods to the lights and front grill and rear bump than from the 97 ITR. I like the existing style but if I had my choice I'd chose the Japanese front end over the North American version (Ya wats up with that?? We always get the left overs here in Canada!! Damn!) The rear spoiler is stock from the factory and it looks like an after market one which I like. I also changed the front corners that were originally orange to clear ones (ya that's original eh? Only like everyone has them now...LOL). Other than that I haven't really modified my ITR "yet". I'm just enjoyin' stock right now.. But keep checkin back cuz ya never know...
Performance
Need I even go there? Ah man.. compared to my Civic Si (mods included intake, and Greddy exhaust) it's not even close. The ITR is so slow. Haha.. ya wateva! The ITR is balanced very well and the steering is very predictable under even very harsh driving (which I've been told I do way too much of ;-)). The ITR stock suspension is unbelievable in my opinion and with the extra reinforcements (strut towers, lower front and rear braces, lowered stance, limited slip differential). In my old Civic, I was doing about 16.7s in the quarter mile track (which is embarassing I know) but with a stock ITR I ran a 15.4s bone stock. Now you should know that in Calgary, our altitude is about 4000 feet above sea level (which means less oxygen for the little red engine that could). After using the NHRA conversion tables to calculate my quarter mile times at sea level that works out to be about 14.6 - 14.7s. Which isn't bad as even the experts drivers in Japan did a fastest run of only 14.6s :-)! Well wat can I say except I LOVE my ITR!
Future Plans?
Import racing and the culture that goes with is starting to see the light of day here in Calgary. A few years back I still remember that my old Civic Si use to turn heads a lot after I put on just my 16" TSW Evo rims. Now its like...That's all ya got? haha.. So I'm kinda behind now and I gotta get back into the "scene" as it were. But man is this like the ultimate black hole or wat eh? But it's so very addictive! Well, if ya got any good ideas for my ITR, please by all means let me know. But I think right now I would "like" to see if I can do the following:
Stage 2 upgrades might include: (ok this is the dreamin part..haha)

The ITR Core

It's beautiful isn't it?
From www.acura.com: Who can describe the Acura Integra better than the people who made it possible?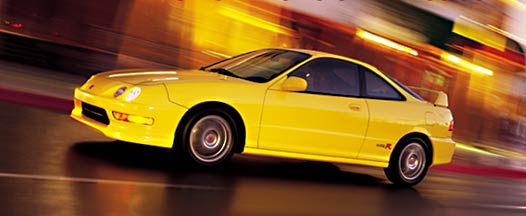 It's not just the way the Integra looks that makes it so popular. It's the way it follows through on its race-inspired looks with precision performance. From repeat owners to neighborhood kids, almost anyone will tell you it's a serious car. Integra coupes and sedans are known for their exhilarating performance, which is something everyone can relate to.

The 2001 Integra is more than a fun sports car. It's also a luxury car. And it's a serious performance car, with ample power, agile steering and suspension, and advanced safety and control systems, all applied in the Acura tradition of precise, purposeful engineering. So put the Integra to the test. And get in on some of the most exciting driving available this side of the racetrack.


Back Home